Aligned with the Guide to the Project Management Body of Knowledge – Sixth Edition

PMProcess Flow™ Poster & Set of 6 Companion Documents

"The ultimate PMP®road map and study guide" based on PMBOK®Guide – Sixth Edition
Poster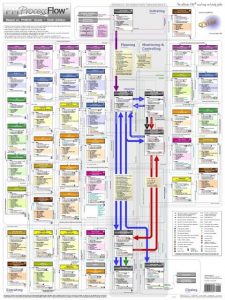 Full color 18″ x 24″ poster
based on PMBOK®Guide – Sixth Edition
This "ONE PAGE PMBOK" emphasizes the interconnectedness of all processes.
It is the only tool available that shows the big picture and at the same time allows you to focus in on individual inputs and outputs and trace these throughout the project lifecycle.
This poster is an indispensable sidekick to any PMP or CAPM exam prep guide.
Processes are organized by project management process group, with color coded knowledge areas, and process categories identified with icons

All 49 processes are complete with 239 inputs, 245 tools and techniques, and 181 outputs

Project integration management knowledge area is shown as the backbone of the project

Data flow between all processes, process groups, knowledge areas, and external to the project

Color coded:

Business and Initiating Documents and Agreements

Project Management Plan components

Project Documents

Procurement Documentation

Work performance documentation

Change Requests

Deliverables

Project Management Plan components and their updates are identified with numbers, and baselines are labeled with icons.

Labeled with icons:

Assumption Log

Change Log

Issue Log

Risk Register

Stakeholder Register

Lessons Learned Register

Risk Report

Quality Reports

Requirements Documentation

Project Schedule
Poster Detail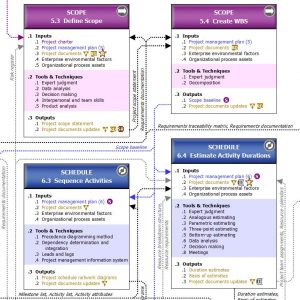 Poster Legend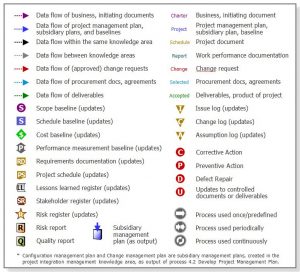 Poster ISBN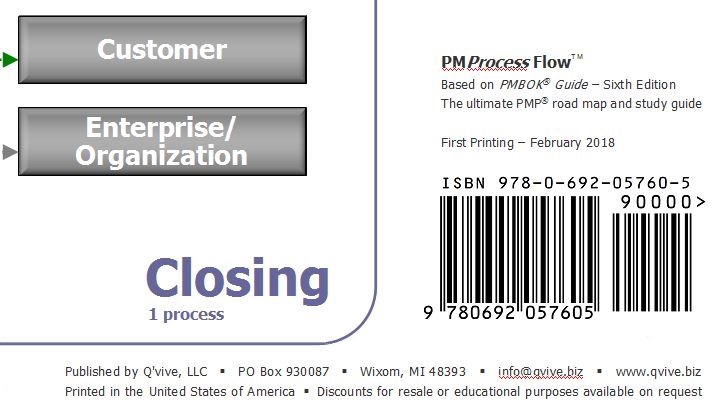 Customer Reviews

The poster is a must-have for anyone who is studying the PMBOK or studying for the PMP. It is a wonderful resource and helped me very much in my PMP certification study. The price is very reasonable, and it really does provide all the information that is needed to follow the processes and identify the flow. This is the best study resource for the PMBOK processes that I've seen.
The poster provides a complete view of all processes, ideal for quick reference. In addition, the service is personalized, effective and fast. Congratulations on your excellent product.
I find your poster very helpful. I have it on my bulletin board above my desk, and refer to it often. I think the graphics help reinforce the words that I am reviewing in the PMBOK.
Fabulous aid to project management. Pulls all the processes together on one page. I would strongly recommend this wall chart for anyone studying for the PMP exam or for a practitioner wanting a quick reference guide.
This poster is a wonderful study aid. I hung it on my wall and used the clearly defined process flow to re-enforce what I was learning from my exam prep. The Knowledge areas are color coded and the required outputs have icons so you can easily visualize (and remember) requirements. This aid is definitely worth having if you are serious about being an effective Project/Program Manager.
Utilizing this poster while reading the exam prep book actually helped tie everything together, and greatly contributed to my ability to pass the exam!
I recently passed the PMP exam. I was able to complete the exam in two hours comfortably and confidently. I found that the PM Process Flow poster was extremely valuable in helping me understand the PMI project management methodology.
There is a great deal of information that needs to be digested in order to prepare for the PMP exam. In reading the PMBOK Guide and other PMP test prep books the processes are described over many chapters and it is not always apparent what the sequence of events are or how the processes are related. The PM Process Flow poster served as a key resource in understanding the big picture, and proved to be a very valuable resource in preparing for the PMP exam, and as a newly minted PMP I refer to it daily.
I am very impressed with the Process Flow Poster. This is an excellent study aid for those wishing to take the PMP Certification Test. This is also useful for PMO's, PM's and any organization wishing to adopt the principles and practices of professional project management.
The poster is on high-quality glossy paperstock. It is very easy to follow with color coding to guide you through the various knowledge areas and processes. The text is clear and the overall document is well-designed and attractive.
I highly recommend this item to everyone with an interest in project management.
The Q'vive resources are absolutely great; you have to buy the poster, I think it's a great overview. I've bought several of them because they keep disappearing from the office, which is ok, because a number of people are studying for the PMP.
I definitely recommend the Qvive process chart. It pulls together visually what you are reading in PMBOK and other books.
I am studying for the PMP exam. A classmate recommended your web site. It is wonderful. I have ordered the PMP Process Flow poster and your suggestions and links and great resources. Thanks for posting this and keep up the outstanding work.
The Q'vive chart is a much more complete flow chart, showing all process inputs, tools, and outputs, with flow lines that identify the documents used for inputs and outputs. This chart lets you trace the relationships between the various processes in detail. I am very impressed with the Q'vive product and it's certainly worth the cost. If you know what is on this chart, you will have a good understanding of PMBOK.
For the record, I have no relationship with Q'vive, I am just very impressed with this product.
The poster provides a complete view of all processes, ideal for quick reference. In addition, the service is personalized, effective and fast. Congratulations on your excellent product.
The seller did great work to create the product. The diagram is worth having. I encourage everyone to buy. I am a PMP, and I still bought it as a reference guide. If you are studying for the PMP, it is invaluable.
Companion Documents
The set of 6 Companion Documents has been designed to compliment the PMProcess Flow™ poster.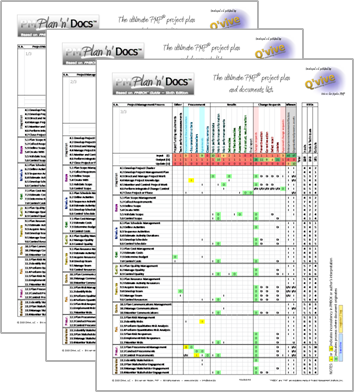 PM Plan 'n' Docs™
This three-page matrix cross-references all documents against each of the 49 processes, indicating where each document originates (output), where it is used as input, and where it is updated.
Initiating Documents

Project Management Plan Components and Baselines

Project Documents

Procurement

Results

Change Requests

Influences (EEFs , OPAs)

Other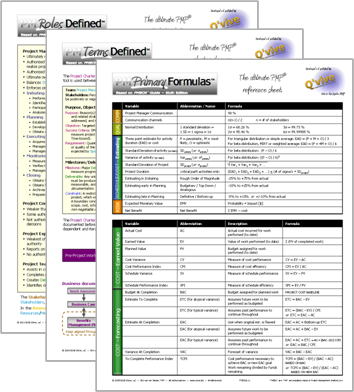 PM Primary Formulas™
Reference and memorization sheet with all equations and formulas for the PMP® exam including Earned Value. Organized by Knowledge Area, this list is color coded to be used as a companion to the PMProcess Flow™ poster.
PM Terms Defined™
Glossary with definitions that are commonly used in the project charter. Visual explanation of how project life cycle phases, process groups and knowledge areas are related, including pre-project business documents.
PM Roles Defined™
Glossary with the people in and around the project with their roles & responsibilities.
The PMProcess Flow™ poster and Companion Documents have been shipped to PMP® and CAPM® students around the world:
United States
Brazil
Switzerland
South Africa
Belgium
Singapore
Denmark
Jordan
United Kingdom
Australia
Canada
Colombia
France
Germany
Norway
Bulgaria
Czech Republic
Israel
India
United Arab Emirates
Mexico
Kenya
Austria
New Zealand
Peru
China
South Africa
Malaysia
Ireland
Russia
Slovakia
Qatar
Albania
Sweden
Netherlands
Taiwan
Nigeria
Hong Kong
Saudi Arabia
Ecuador
Italy
Spain
Greece
Belarus
Dubai
Poland
South Korea
Japan
Turkey
Finland
Oman
Kuwait
Morocco
"PMI", "PMBOK", "CAPM", and "PMP" are registered marks of Project Management Institute, Inc.