Project Management Essentials
TRAINING BENEFITS
After successful completion of this training you will be able to:
Explain the fundamental concepts of project management.
Explain the five project management process groups, and know how to manage projects throughout the project life cycle.
Explain the ten project management knowledge areas.
Explain the inputs, tools & techniques, and outputs of the 49 project management processes.
Create a project management plan based on a project charter and input from stakeholders.
Determine how to manage a project team to execute the project management plan, and decide how to deal with changes.
Manage project documentation effectively, including lessons learned throughout the project.
Explain how to properly close a project or project phase.
Evaluate how professional responsibility drives ethical behavior.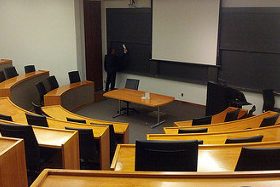 Who should attend
Individuals that have experience working on project teams, as well as project managers that need to refresh their knowledge and complement their skill sets.
Typical functions:
product developers
plant engineers
IT personnel
commercial team members
engineering managers
technology managers
other functional managers
senior management
Information Session
There is no info session for the 2022 Spring/Summer semester.

For more information, visit Schoolcraft College PPL
Feedback from Schoolcraft students
"Eric is fantastic. He is very knowledgeable, funny, and provided real life examples, which made the materials easier to understand. Class participation & group exercises very very helpful!"

-PMP student, April 2, 2018
"Extremely helpful! Fast paced with lots of information.
-PMP student, April 2, 2018
"Great preparation for PMP Certification. Must study outside of class."
-PMP student, November 22, 2016
"It is exactly what you need for certification and it is taught by an expert in the field."
-PMP student, November 22, 2016
"Explains material in a clear way and offers practical exercises & examples"
-PMP student, November 22, 2016
"Thanks for all your help! I wanted to let you know I passed the exam today. I am now PMP certified!"
-PMP student, June 25, 2015
"Hello Eric, I am glad to inform you that I have passed the PMP exam today… Thank you so much !!!"
-PMP student, April 28, 2015
"I was able to PASS the PMP test Monday! I am super excited about it, but it was no joke, very tough. Thanks for your help it was much appreciated. I am sure I we will be in contact again soon. Best wishes in 2015
-PMP student, January 2, 2015
"Eric, thanks for teaching the class. I thought you were very personable and made it easy to ask questions. You made it fun to learn about A LOT of material. Thanks again."
-PMP student, November 24, 2014
"Exceeded expectations, would recommend based on instructor ability to teach and explain."
-PMP student, November 24, 2014
"I cleared PMP in first attempt and the credit goes to Eric for being such an awesome teacher."
-PMP student, February 25, 2013
"I appreciated Eric's sincere interest in helping us to understand the material and what we will face when taking the exam. His website for the course is chock full of helpful information and links."
-PMP student, December 3, 2012
"I procrastinated all summer, but I finally did sit for the exam yesterday and passed. Your class helped me focus on the material, so thank you for helping me pass the exam."
-PMP student, September 25, 2012
"Hello Eric. I am incredibly excited and honored to report to you that I PASSED the PMP exam this morning!!! Thanks you for your support and for your class. I do feel it was very helpful in getting me started on my study efforts and ultimately passing the exam."
-PMP student, September 4, 2012
"Hi Eric. Took the PMP exam today and passed. Your sample questions were very helpful and seem fairly much in line with the exam. Thanks for all your help."
-PMP student, May 7, 2012
"Hi Eric. Just wanted to let you know that I passed my PMP exam on Saturday. Thanks for all the great instruction. Your class along with Rita's book helped a ton."
-PMP student, August 29, 2011
"Hello Eric, I passed the PMP exam yesterday. I completed your 10 week class in July and supplemented it with Rita Mulcahy's book."
-PMP student, August 24, 2011
"Hi Eric, just wanted to drop you a quick note that I passed the PMP exam yesterday. Thanks for your help with getting me certified."
-PMP student, May 17, 2011
"I passed my PMP credentials exam last Thursday. It was a challenge. … Thank you for your help with the exam prep. Your course put me on the right track."
-PMP student, May 16, 2011
"Just wanted to let you know that I passed the CAPM exam today. Your class was a great help. Thanks."
-PMP student, May 11, 2011
"I'm happy to report to you that I passed the PMP exam yesterday! The course you provided was very helpful in preparing for the exam. Thank you."
-PMP student, May 9, 2011
"The instructor was focused and effective in teaching the subject matter and recommending supplemental material to further help me gain knowledge."
-PMP student, winter 2011 semester
"The cost of the course was very attractive compared to other exam prep courses. I feel I got more value than what I paid for. Thank you."
-PMP student, winter 2011 semester
"It is a great class for a PMP Professional."
-PMP student, winter 2011 semester